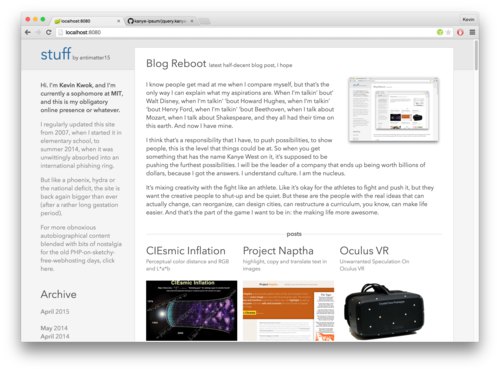 This is my submission to blogdom's burgeoning class of eternally "work in progress" sites. I've been working on this blog reboot for nearly a year at this point (rest assured, I haven't worked on it for any appreciable fraction of that time— but it's nonetheless traumatizing for me as "blog posts written" is my primary metric for personal productivity).
There's still a lot left to be done, but right now it should be in a more or less functional and navigable state. I've just added image thumbnailing (so this homepage shouldn't take a triassic aeon to load anymore), which seems like an addition substantial-enough to warrant some new words adorning the featured post callout.
Most importantly though, it's now a hip static site hosted on Github Pages (though I might move to S3), so the Turkish phishers last remaining venue for hijacking this site may be sending a pull request.